Green Heavy Duty Tarp
Heavy duty green tarps are polyethylene 3 layer tarps, 14X14 mesh, UV treated. Use for canopy covers and many outdoors protection needs.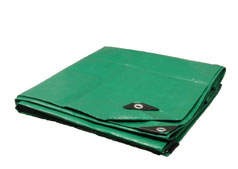 Actual sizes are 4" to 6" shorter in length and width than order size.
All tarps are subject to have a heat welded seam.
Green Heavy Duty Tarp Specifications:
3 ply Polyethylene material ( Poly Tarp )
12 mil thickness
6 oz. per square yard
14 X 14 mesh thread count
1200 denier* mesh thread

Ultraviolet treated
Reinforced corner guards
Rope reinforced with hemmed edges
Grommets are approx. 18 in. on center
100% Water proof, mildew and rot resistance
Arctic flexibility
*Denier = A term used to indicate the size or number of filament or yarn. The higher the number the heavier the yarn or fiber.