Golden Tan Sun Shade Screen Mesh
73% Golden Tan Mesh Tarps provide filtered sun allowing 27% light through and are UV treated to last in the sun. These tarps are not waterproof but are ideal for shading nursery beds, camping areas or for covering truck beds. Please note that darker colored mesh tarps, especially black and green, will last longer in the sun that the Golden Tan will.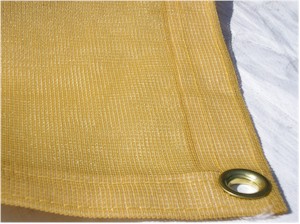 Actual sizes are 4" to 6" shorter in length and width than order size.
All tarps are subject to have a heat welded seam.
Golden Tan Sun Screen Mesh Tarp Specifications:
Heavy Duty Polypropylene knitted fabric material
Golden Tan color mesh
73% shade, 27% light allowance
Full UV Protection
Reinforced Edges with grommets approx. 18 in on center
Heavy Duty Brass Aluminum Grommets
Rot & Mildew Resistant
Arctic Flexibility
Tear Resistant
Acid Resistant
Golden tan does not last as long as dark colors, such as green and black